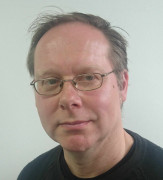 Dr Aylett is an Associate Professor in Applied AI at Heriot Watt and co-founder and Chief Scientific Officer of CereProc, a speech synthesis company based in Edinburgh. He holds the titles of Royal Society Industrial Fellowship alumnus and Honorary Fellow at the School of Informatics, at the University of Edinburgh. He received his PhD and MSc in Speech and Language Technology from the University of Edinburgh and holds a BAHons in Computing and Artificial Intelligence from the University of Sussex.
Dr Aylett also serves as the Deputy Chief Scientist of the Scott Morgan Foundation(SMF) where they develop assistive technologies to empower people with disabilities such as Motor Neuron Disease (MND) and other life-challenging conditions to lead full and socially rich lives. The goal of SMF is to use human-centered AI and cutting-edge technology to improve accessibility for disabled people, thus transforming their lives for the better.
Dr Aylett is an expert in human-robot interaction, conversational systems and conversational interaction. He has worked with high profile social robot projects such as Embodied Moxie and Hanson's Sophia where we presented the world first human/robot duet on the Tonight Show with Jimmy Fallon. Rather than build complex systems that interact badly, Dr Aylett wants to build dumb systems that interact well.
Research keywords:
Human-Robot Interaction, Social Robotics, Conversational User Interfaces, Speech Technology, Accessibility
Email (optional - published on profile page):