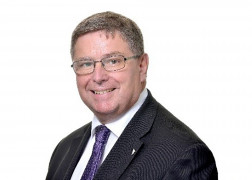 Iain Gray is the Director of Aerospace at Cranfield University. Iain joined Cranfield University in March 2015 after 7 years as the Chief Executive of InnovateUK (formerly known as the Technology Strategy Board), In this role he is responsible for all aspects of learning, executive education and research in Aerospace for the University and for developing the Aerospace Strategy across the University Group.
Prior to this, Iain was Managing Director and General Manager of Airbus UK, whose Bristol operation he joined when it was still part of British Aerospace.
Iain Gray completed his early education in Aberdeen, culminating in an Engineering Science honours degree at Aberdeen University. In addition, he gained a Masters of Philosophy at Southampton University in 1989.  Since then Iain has received Honorary Doctorates from Bath, Bristol, Aberdeen, Cardiff, Exeter and the University of the West of England.  In 2014 he was awarded a CBE for services to innovation. 
Iain is a Chartered Engineer, a Fellow and Vice President of the Royal Academy of Engineering; a Fellow of the Royal Society of Edinburgh, a Fellow of the Royal Aeronautical Society and in 2007 was awarded the Royal Aeronautical Society Gold Medal.
In 2016 he was awarded the Baird of Bute Award for his contribution towards aviation in Scotland.  He is Chair of Aerospace Bristol Museum, a Non-Executive Director for Graphene based company Versarien and is Chairman of technology company CFMS UK Ltd.