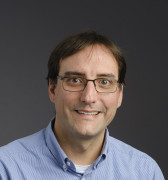 Frédéric Bosché is a Senior Lecturer. He leads the CyberBuild Lab (currently https://cyberbuild.hw.ac.uk/) through which he delivers research and consultancy projects in two main areas:
Processing of reality capture data to enhance asset construction and life cycle management (3D and 2D data, BIM, Digital Twinning).
Development and use of virtual and mixed reality technology, to support collaborative and engaging design, construction and engineering works, as well as training.
Frédéric has published over 70 peer-reviewed papers in internationally-recognised journal and conferences, and his research has received a few international research and innovation awards, including two CIOB International Research & Innovation awards in 2016 and the 2018 IAARC Tucker-Hazegawa Award for "major, distinguished, and sustained contributions to the field of automation and robotics in construction". Frédéric is the President of the International Association for Automation and Robotics in Construction (IAARC). He is also Associate Editor of Automation in Construction (Elsevier).
Research keywords:
Automation, imaging, defect, construction, management
Theme:
Vision and Perception
Machine Learning and AI (inc. multi-agent systems)
Email (optional - published on profile page):