Pudsey meets the Year of Robotics student team
Pudsey meets the Year of Robotics student team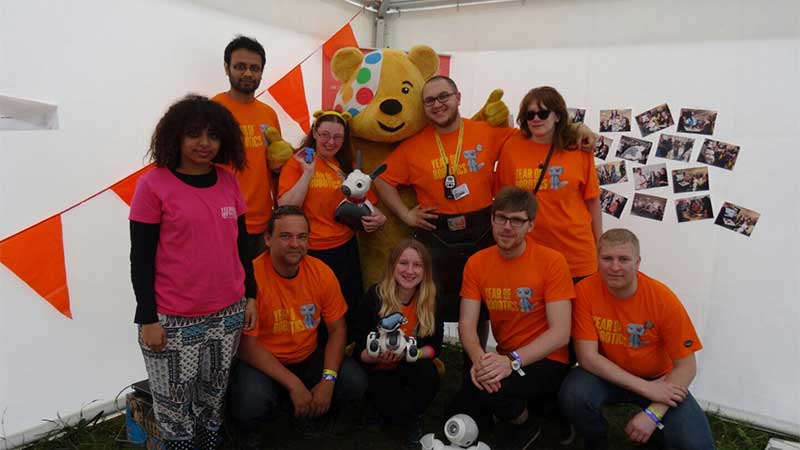 Students from Heriot-Watt joined Pudsey Bear last weekend for a major new outreach activity, forming part of the University's Year of Robotics.  
As one of the flagship events in the BBC Children in Need calendar, the event, called CarFest, combines amazing cars with music and family activities. For the first time, the public enjoyed engaging in a variety of robotic themed activities, hosted by an interdisciplinary team drawn from schools across the University.
CarFest brought us in front of a new audience and demonstrates the huge appetite for this type of engagement activity across all age groups.

-Sandra McArthur, School of Mathematical and Computer Sciences
Sandra McArthur, from the school of Mathematical and Computer Sciences, explains: "Working with the public is a vital component of Heriot-Watt's mission to create and exchange knowledge for the benefit of society.
"The organisers of CarFest invited us to attend after hearing about our Year of Robotics and we developed a tailored programme of activity with the aim of inspiring minds of all ages about artificial intelligence and robotics research. CarFest brought us in front of a new audience and demonstrates the huge appetite for this type of engagement activity across all age groups.
"Attending events like this type helps the public to think about and understand the role that robots will play in their daily lives in the near future, as well as engaging all genders in STEM subjects. This opportunity builds on our strong history of public engagement with local, national and international communities.
"The event was also a fantastic opportunity for our students to share their existing knowledge and learn from each other, a great example of why interdisciplinary work is so important. It also gave them an opportunity to develop new skills around event management, team working, social media and PR."
Five thousand people travelled to Cheshire for CarFest where visitors had the chance to learn about projects such as the Heriot-Watt Student Robotics Society's humanoid robot, built from 3D printed body parts.  The public also experienced immersive virtual reality kit, which was demonstrated and explained by students who are developing next generation virtual reality scenarios.
For younger visitors, who will become the next generation of robotics engineers, the robot petting zoo allowed children to pick up, touch and interact with robots including MiRo, a companion dog-bot. This activity aimed to normalise robotics and encourage questions about how they work. The team even explained the technology behind BB-8, the famous Star Wars robot, using simple coding demonstrations.
The activity formed part of Heriot-Watt's Year of Robotics, a year-long programme of events which span schools, the public, academia, industry collaborators, funders and policy makers. Designed to celebrate and demonstrate our pioneering research, which is at the forefront of robotics, artificial intelligence and human-robot interaction, the next event will be CarFest South, which will take place in Hampshire on the 25th – 27th August. 
https://www.hw.ac.uk/about/news/pudsey-meets-the-year-of-robotics-studen...