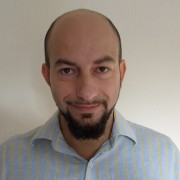 Dr Mauro Dragone is an Assistant Professor in the School of Engineering & Physical Sciences; Sensors, Signals & Systems at Heriot-Watt University. His research focuses on building smart spaces combining sensors, actuators and robots working together to accomplish complex tasks while also adapting to new environments and to changing and evolving requirements with minimum human supervision.
Dr. Dragone has been CO-Pi in two EU projects in the area of Internet of Things (IoT) for intelligent buildings spaces, before initiating, in 2011, the FP7 project RUBICON (Robotic UBIquitous Cognitive Network, FP7-ICT-269914, 2011-2014), a 2.5 million EUR project that has posed the foundations for self-adaptive ICT-Robotic Ambient Assisted Living (AAL) systems. At Heriot-Watt University, Dr. Dragone is co-investigator in the UK-EPSRC projects ORCA ORCA Hub (EP/R026173/1) and USMART (EP/P017975/1), researching ways wireless sensor networks and autonomous robots can cooperate as part of intelligent monitoring systems in underwater environments.
He also set-up the ICT-Robotic for Indipendent Living Testbed, a 'Living-Lab" designed to facilitate user-driven design and testing of innovative and more practical solutions for healthy ageing and independent living by harnessing IoT and Robotic technologies working together.
Research keywords:
robotics, human-robot interaction, robotic ecology, multi-agent systems, internet of things