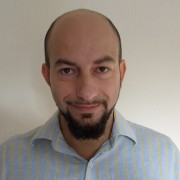 Dr Mauro Dragone is Associate Professor in the School of Engineering and Physical Science. Dr. Dragone has worked in EU projects in the area of Internet of Things (IoT) for smart environments, before leading the EU FP7 project RUBICON (Robotic UBIquitous Cognitive Network, FP7-ICT-269914, 2011-2014), a 2.5 million EUR project that has posed the foundations for self-adaptive robotic systems for Ambient Assisted Living (AAL) applications.
At Heriot-Watt, Dr. Dragone set up the Robotic Assisted Living Testbed (RALT), a 'Living-Lab" designed to facilitate user-driven design and testing of innovative and more practical solutions for healthy ageing and independent living by harnessing IoT and Robotic technologies working together. He has also initiated the Cognitive Assistive Robotic Enviroment (CARE) group, with a focus on enabling IoT and robotic, autonomous and interactive systems (RAIS) to provide user-centred assisted living support. He is currently involved in EU coordination actions developing new benchmarks for assistive robots (METRICS/HEART-MET), and he is one of the co-investigators of the EPSRC Healthcare NetworkPlus EMERGENCE, developing the UK roadmap for assistive robotics for frailty. His current research activities include cloud-robotics, tele-presence robotics, and integration of robot technology in smart homes to assess and assist people living with conditions such as dementia and frailty.
Research keywords:
Cognitive robotics, human-robot interaction, multi-agent systems, internet of things, cloud robotics, ambient assisted living, health & social care robotics.
Theme:
Human Robot Interaction
Machine Learning and AI (inc. multi-agent systems)
Email (optional - published on profile page):