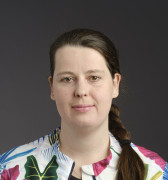 Associate Professor Katrin Lohan joined the school of Mathematical and Computer Sciences at Heriot-Watt University in 2013. She is director of the Social Robotics Group. She became SICSA team leader in the Cyber Physical Systems research theme in 2016. She was General Chair for the European Robotics Forum 2017. She is hired under the Global Platform Recruitment for Research Leaders and part of the Edinburgh Centre for Robotics. Previously, she was working at the Italian Institute of Technology (IIT) as a Post Doc in the RobotDoc project funded by the Marie Curie Fellowship. 
She obtained her Ph.D. in Engineering from Bielefeld University, Germany in 2012, where she was associated with the ITALK project. 
Her main research interests are in understanding the learning mechanisms between parents and infants, between adults and adults, and between humans and robots in order to create a natural interaction with a robot. Furthermore, she is interested in deep learning of semantic objects, both through vision and speech.
Research keywords:
Human-robot interaction; developmental robotics; cognitive robotics; intelligent system
Email (optional - published on profile page):