Hand Exoskeleton for Assessment and Therapy of Hand Spasticity
To design and develop a hand exoskeleton to imitate a therapist for spasticity assessment and therapy; to test and verify the functionality and assessment; to demonstrate the effectiveness for therapy.
Description of the Project: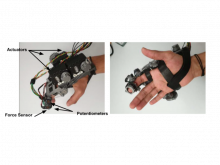 We have recently developed a prototype single-finger exoskeleton to perform active finger movements to mimic a therapist for assessment of hand spasticity. This is perhaps the first prototype to automatically perform quantifiably standardized, objective and rigorous evaluation of hand-spasticity.  Also a prototype GUI software tool is designed to operate the exoskeleton, to be user friendly for the medical therapists and to produce a report document in a style familiar to them. Very positive feedback was obtained from medical therapists about this initial prototype. The current project targets developing this initial prototype towards a full hand exoskeleton capable of performing full spasticity assessment as well as to be used as a therapy device adaptable to the specific needs of individual patients. The project involves mechatronic design, low level motor and robot control, development of high-level control scheme imitating therapy practices, and interaction with therapists, doctors, and patients.
Resources required:
Requested from the project budget: -Consumables – motors, motor drivers, 3D printing costs, electronics, computational facility, etc. (to be budgeted to the project). Available: -An initial prototype of hand exoskeleton.
First supervisor university:
Essential skills and knowledge:
Desirable skills and knowledge:
Medical robotics, control, mechatronics design and development
Recommended training:
Robotic Mechanical Systems (B51RO) Machine Learning and Pattern Recognition (B31AV)
References:
Erden, M.S., McColl, W., Abassebay, D., and Haldane, S., 2020, "Hand Exoskeleton to Assess Hand Spasticity", IEEE RAS/EMBS International Conference on Biomedical Robotics & Biomechatronics (BioRob 2020).